Book against book, friend against friend. Welcome to ThriftBooks Novel Knockout: Character Clash! The competition might be over, but you can relive the excitement with our bracket below. 64 iconic literary characters of four different factions went head to head in daily polls beginning March2, and with the help of our readers, one winner was declared! From Heroes, Villains, Wildcards, and Legends, the ultimate icon was decided April 1! Check out our journey in the bracket, and share some love for your favorite loser in the comments.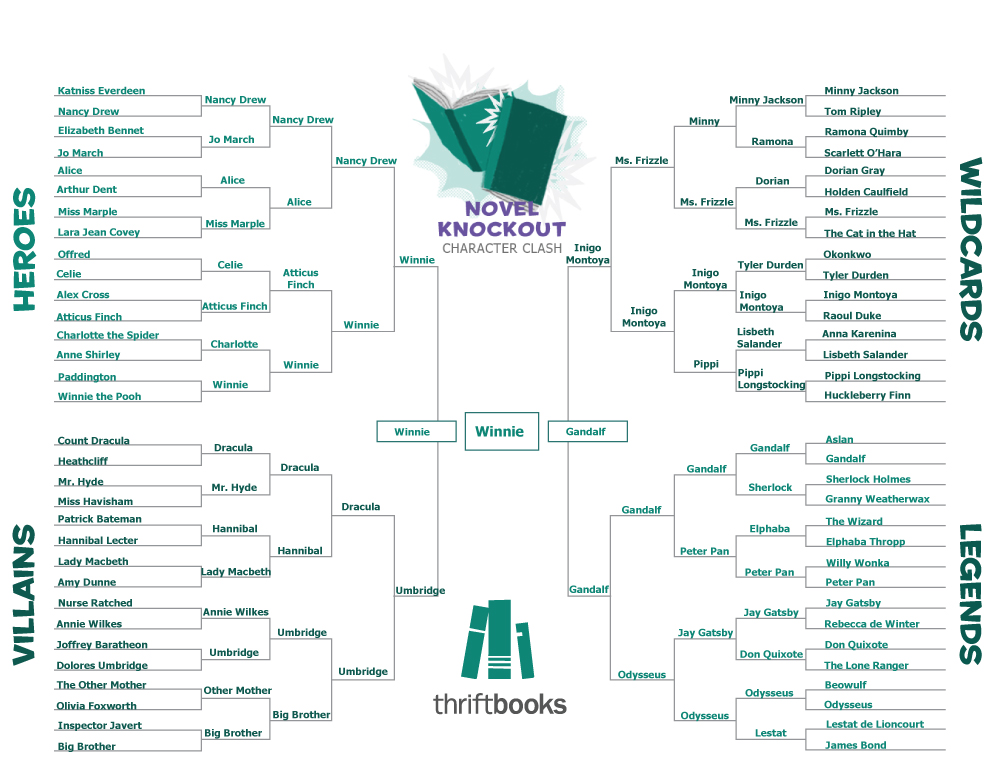 Click here to download a blank bracket to print the bracket to print and play along! Post it and tag @ThriftBooks to show it off!
And the winner is...
1.
Winnie the Pooh!
With 60% of the vote, Winnie the Pooh has taken the championship! From Paddington to Gandalf, Winnie came out victorious over 63 other characters, proving just how important a good friend really is.
2.
Gandalf!
Coming in second place and representing our Legends faction is Gandalf. J. R. R. Tolkien's gray and white wizard is truly a force to be reckoned with, both in his own universe and ours! Gandalf's fans were loud and proud, fighting for him every poll and helping to get him here.
These two characters were the other half of our Final Four and we could not be prouder. Umbridge caused the most upset with her wins, which is exactly what our Villains champion should do! Inigo crushed his competition, only barely losing out on second place by 1-2%.
Helpless Heroes
These heroes didn't win this time, but their stories live on
Vanquished Villains
These villains just weren't quite vicious enough
Withering Wildcards
They couldn't win, but they can still wild out in their books
Languished Legends
These legacies can't be erased with a simple loss
Leave a comment with your vote below!