The Chalice of the Gods
Percy, Annabeth, and Grover are back for more laughs, danger, monsters, and gods!
The original heroes from The Lightning Thief are finally reunited for their biggest challenge yet: getting Percy to college when the gods are standing in his way. After saving the world multiple times, Percy Jackson is hoping to have a normal senior year. Unfortunately, the gods aren't quite done with him. Percy will have to fulfill three quests in order to get the necessary three letters of recommendation from Mount Olympus for college.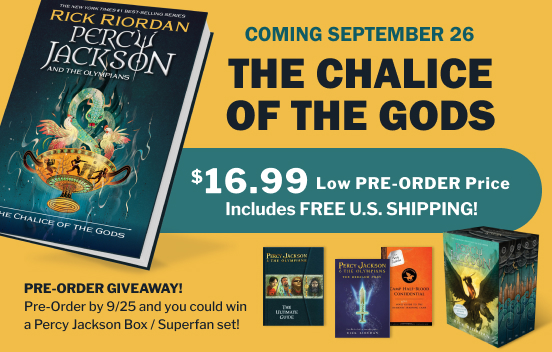 When you pre-order Percy Jackson and the Olympians #6: The Chalice of the Gods with ThriftBooks, you could win a superfan set! Includes:
Percy Jackson and the Olympians 5 Volume Hardcover Boxed Set
Percy Jackson and the Olympians: The Ultimate Guide
Percy Jackson: The Demigod Files
Camp Half-Blood Confidential-An Official Rick Riordan Companion Book
See the official giveaway rules
Free Shipping on all US orders $15 or more
You Could Win ALL of These Camp Half-Blood Favorites!
Featured Author
Rick Riordan
Rick Riordan (born June 5th, 1964 in San Antonio, Texas) is an American author of more than 30 books and is best known for the Percy Jackson and the Olympians series, which follows the modern day adolescent son of the Greek god Poseidon. Much of his work is influenced by mythology and archaeology, and Riordan is currently working on a series based on Norse Mythology. He also wrote the Tres Navarre mystery series, which follows the adventures of a Texan private investigator. He has won several awards, including two Mark Twain Awards for The Lightning Thief and The Sea Of Monsters.
More from this author
More from the Percy Universe